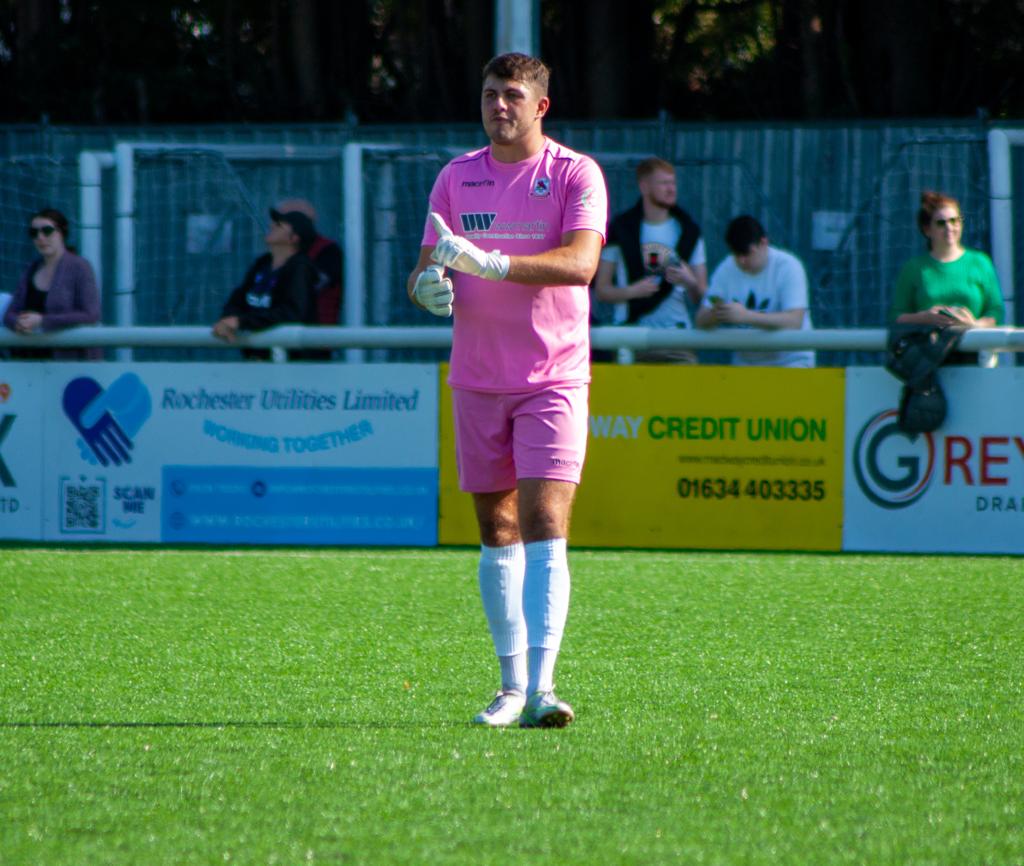 We caught up with Rams number 1 Tom Hadler this week after an impressive start to his time at The WW Martin Community Stadium to hear his thoughts ahead of The Fa Cup clash against Frome.
Q. What are your impressions of the club in your first few months here?
A. I'm so impressed and think the club is a fantastic example to replicate across non league. Community based with the youth teams at its heart, it feels like we are the representatives of a very special place when we go out to play on a Saturday. The physical infrastructure with the pitch is brilliant and I know that in the years to come the ground will only develop further to provide even more opportunities for people and create the best option for watching football in the area. There are a lot of good people behind the scenes and the club is only going one way!
Q. How have you found the transition from full time football to part time?
A.  Interesting but also very welcome! Training every day on a 3G isn't a great idea for your body I don't think so to be able to manage my week now between training part time and going to the gym means I'm feeling fresher to be honest. Because of the people that are here the environment is very professional when we are around the club so it doesn't feel too different when we are actually at training or matches, and we all want to push ourselves and succeed so the mindset never really changes if you're full time or part time.
Q. What are your personal ambitions going forward in your career?
A.I will always do my best in whatever I get involved in. At football I want to stay with Ramsgate and drive us up the leagues enjoying the rollercoaster of football along the way. I think away from playing I have made sure to keep developing myself all the way through being a full time pro so I have coaching badges, a degree and some industry experience in business so quite keen to test myself in different avenues going forward. I love football so can see myself always involved in some capacity.
Q. What do you think this squad can achieve this season?
A. I don't like to put bold statements out too early on as teams are a process and seasons are long. However we have a brilliant squad with great depth and so I can see us being successful, hopefully for years to come.
Q. With so many youngsters getting a chance in the first team this season, which one has impressed you the most?
A.  Never thought I'd see the day where I'm not the young player anymore! But this is definitely that day as an old head now!! They've all been brilliant and it's easy to forget how young some of them are like Louie and Tristan at 17 and 16. Archie is a great lad and goalie and will do well as he keeps learning and playing every week with the 23s. Freddie has been brilliant, Benny is undoubtedly one of my favourites so it's hard to pick! I'd probably say it's that other new young guy Lee Martin, seems a great player for his age!
Q. Finally It's the Fa Cup tomorrow what do you expect from Frome?
We know Frome are a good side who have been in good form this season but we have faith in our ability and it will be great to get back out in front of the fans again. The Fa Cup is an exciting competition and we want to progress as far as we can.
Kick off is at 3pm and Tickets are available on the gate £10 Adults. £5 concessions, Under 18's free.